After making Teddy 1.0, I decided to back up in the Craftsy class I'm taking and make the first project, which is the chunky blue bird.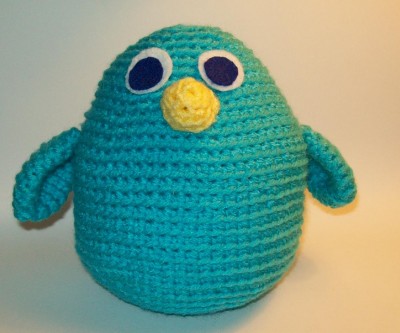 Don't you just want to squeeze this little guy? He was super fast to make and ended up being about six inches high. I did a few things differently on this amigurumi than I have done in the past. First, I stitched the single crochet stitches in the back loops instead of both loops. I'm more comfortable going through both, but since this is a bird, I thought I'd go with what is suggested in the class and stitch in the back loops because you end up with some texture. One result of doing this is that you end up being to count the rows much easier because they are much more noticeable. I think I'm a back loop convert, at least when it comes to softies.
Another change I made were the eyes. Safety eyes are "safe," but they are best for children over 3 years old, and since I plan to donate most of my future toys, I won't know how old the children are who receive them. I ended up cutting circles out of felt and gluing them on. I need to come up with a method to cut more precise felt circles, but other than that, I like the results.