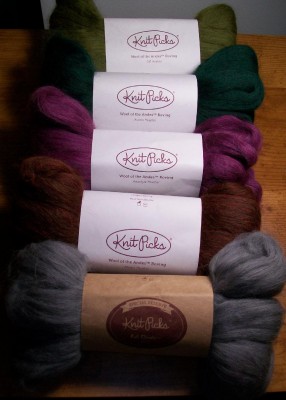 I told myself that I would not touch my Knit Picks roving order until after I used up all of the roving in my kit, but I finally caved the other day. I am so, so tired of gray roving! Not that I do not like gray. In fact, I actually bought some with my order, but after doing 2 ounces of gray, 2 ounces of white, and then about 1 ounce of the other gray roving, I just had to touch the colored stuff!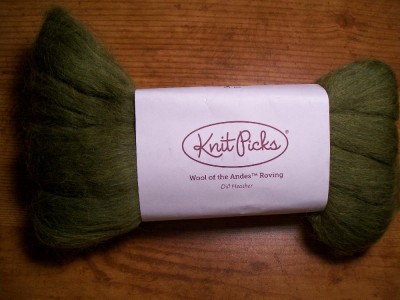 I decided to start with the Dill Heather colorway. Each is 5 ounces, so needless to say, that is way more than the small 2 ounce pieces I've been working with. I divided it a few times in to sections, and I have a fat and tangled
cop
(notice the use of the spinning lingo there) on my spindle. It became extra tangled because I dropped the spindle a few times. Yes, it is called a drop spindle, and I know why now.
I have tried plying already (more on that later), and it turned out okay. So I will probably ply this with another color from my new roving stash. I am still loving the spindle!