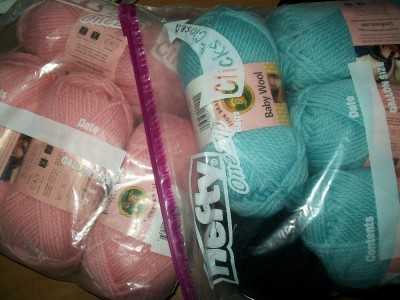 Before I get started, let me clarify that I have nothing against Red Heart Super Saver yarn. For many purposes, such as amigurumi toys, it works great. It washes up wonderfully, and it is just about indestructible. However, I am just plain old tired of it! I have been using it to make donated toys for months now. Some of it I purchases and some was donated to my craft club. I feel compelled to use it for all these reasons.
That said….I can tell such a difference when I use something other than RHSS, and my hands really appreciate the difference. So the other day when I straightening up my office and discovered some Lion Brand Baby Wool, I was giddy with excitement. Yeah! Donated yarn that is not RHSS.
I'm picturing a pink and a blue teddy bear. There might even be enough here for a few in each color. There was another bag with some purple and some yellow baby wool, so perhaps I can manage another giraffe.
When you get donated yarn this is clean and does not smell like smoke and your club is on a limited budget, you have to take it, and if you take it, that means you need to use it. I wish I just didn't know the difference between RHSS, well, many other types of acrylic yarn!