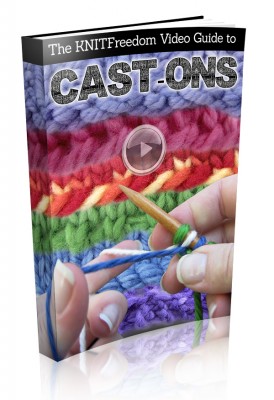 Knitfreedom.com
is one of the few places I have found on-line (or off line for that matter) where I have been able to actually learn how to knit from using the video based instructions. I started out first with the free ebook and then moved on to purchase one of the intermediate level ebooks later. Luckily, Liat is still at it as far as developing new ebooks for those looking for some knitting help, and her latest covers the multitude of ways you can cast on.  Here is the press lease for more information:
KNITFreedom.com Announces the Release of
The KNITFreedom Video Guide to Cast-Ons
New Online Video Guide Teaches Knitters the Top 38 Cast-Ons Needed For Mastery
PALO ALTO, CA, May 9 – KNITFreedom today announced the release of The KNITFreedom Video Guide to Cast-Ons, the first online video resource to truly give knitters an easy and convenient way to master the art of the cast-on.
"In talking with knitters who look for tutorials online, one thing that became very clear was that they were in serious need of a resource that would make it easy for them to know which cast-ons they could use for which projects, and how to do them correctly," said Liat Gat, founder of KNITFreedom.com. "That's what The KNITFreedom Video Guide to Cast-Ons was designed to address."
Most knitters aren't aware that there are over 50 ways to cast on for a project, and that the cast-on you choose can mean the difference between a garment that fits perfectly and one that's unwearable. Many knitters want to learn new cast-ons but get frustrated looking them up on YouTube.
"The initial response to The KNITFreedom Video Guide to Cast-Ons has been even better than I expected," continued Gat. "I think what is happening here is that knitters are drawn to some of the other benefits as well."
For example, Gat said that many knitters were finding the extra tips about choosing and perfecting each cast-on an important added plus — a feature not available in any other online video resource. "I thought it was important, when creating The KNITFreedom Video Guide to Cast-Ons, to give even more than what people were asking for," said Gat. "That's why I didn't stop with just making video demos of every cast-on out there. I really tried to cover all the bases."
With The KNITFreedom Video Guide to Cast-Ons, knitters will now be able to:
understand which cast-on to choose and why
stop casting on too tight
fix dropped cast-on stitches
never run out of tail, and
do any number of popular cast-ons quickly and easily.
The KNITFreedom Video Guide to Cast-Ons will be on sale starting this Friday, May 10th. Signing up for the free KNITFreedom newsletter gives customers 30% off the product price.
About KNITFreedom
The KNITFreedom Video Guide to Cast-Ons is just the latest video guide from KNITFreedom. The company has also produced Become a Knitting Superstar and Learn to Knit Toe-Up Two-at-a-Time Socks, two step-by-step video courses that teach knitters the easiest and fastest ways to master Magic Loop, Continental knitting, and other popular techniques. Liat Gat creates HD video tutorials and classes on a wide range of knitting techniques, with over 200 free videos at knitfreedom.com. Customers can order The KNITFreedom Video Guide to Cast-Ons by going to http://knitfreedom.com/classes/cast-ons.