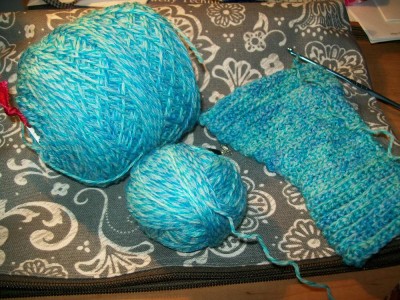 After Christmas, I made a resolution to pull back on the hand-made gifts for friends and family members. I had spent a huge amount of time making hats, fingerless gloves, and scarves for holiday gifts, and the feedback was minimal at best. At first, this kind of hurt my feelings, but then after thinking about it, I realized that there is no way anyone who does not knit or crochet would have a clue about how much time was spent on the gift, so I had to get over it. Plus, maybe the gift recipient didn't really need what I had made for him/her, so a polite "thank you" is all it warranted.
In fact, this is one reason why I decided to become a 31 Gift independent consultant. I could get a double whammy because from now on anyone on my gift list is going to get a bag or organizing item from me, and this will help me keep my status with 31 active since you have to sell $200 every three months.
As a result, I can finally make some crocheted items for myself, and I have started to do not only that, but I have pulled out some high-end stash to boot. Yes, I'm using "the good stuff," starting with much needed fingerless gloves using hand-dyed yarn Calico sock yarn  in the Waimea Bay colorway from Craft Me Happy. These are the All Season Wristers (a free Lion Brand pattern) that I've made a number of times (always for someone else). Now I'm making some for me, me, me!
I will admit that I still plan to make lots of charity crochet items, but at least for this summer (since I have a little more time than usual), I'm going to focus on a few projects, some of which are a tad involved, for me. And, unless I get a very specific and sincere "please make my x,y,z" from those on my gift list, I will be purchasing their gifts through my own 31 Gifts web site. I think this is a good compromise. I get to make some pretty things using fabulous yarn like baby alpaca for me, and they will get some very useful items like the large utility tote that they can use just about every day.