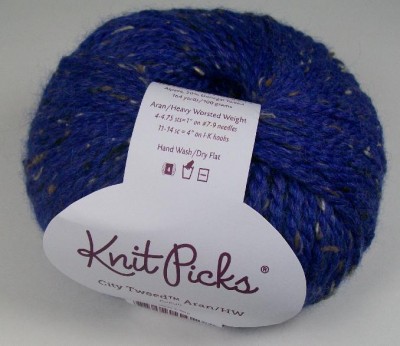 I'm almost finished with a hat I am making for my husband. He used to never ask me to make anything for him because he gets hot so easily. However, after I made him some fingerless gloves he used camping during a particularly cold period, he is slowly coming around.
Recently he asked for a hat when I told him I had some leftover yarn from a pair of fingerless gloves I had made for myself. He really liked the color of the yarn. Unfortunately, I had to explain to him that there was not enough of this yarn to make him a hat, and even if there was, it is sock yarn, so it's kind of thin to use for a hat. Plus, this yarn was hand-dyed by a woman who did not have an active shop any more, and even back when she did, she usually just had sock yarn available. So we went on the hunt for some yarn that he would like and he picked out this City Tweed in Cobalt. I have never used this yarn from Knit Picks before, but this yarn is luscious to work with. It's 55% Merino wool, 25% superfine alpaca, and 20% Donegal tweed. I got 2 skeins in an Aran/heavy weight.
I'm making him a beanie style hat. The pattern is free and called Soldier Beanie. It's available through Ravelry.com and is used to make hats for soldiers to wear under their helmets. I was just about finished when I had my husband try it on, and he thinks it needs to be longer because he wants it to cover the top part of his neck. I have tried to explain to him that a longer hat will not cover his neck; it will just start to roll at some point, but he won't be convinced until I try to do it. Maybe I will be proven wrong, but I'm now working on trying to get him to let me make him a matching cowl or scarf.