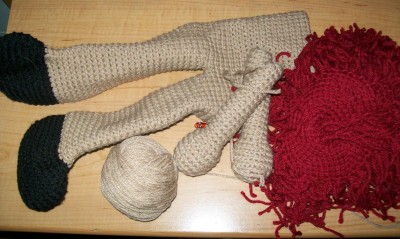 Stacey Trock published some new patterns for dolls recently. You can buy them either individually or as an ebook. Plus, when she first published the ebook,
called A Doll Like Me!
, she had a special offer for $18 versus the normal price of $20. She also has the four doll patterns available individually for $6 each. So even at the regular price, you get a deal since you get all four patterns.
As I've said many times, I love her patterns, so I went ahead and bought the ebook. I am really hoping to finish this gal up this weekend. This is definitely not an immediate gratification project! In fact, it's more of an endurance amigurumi project: Do you have the stuff to finish making this huge doll, or will you wimp out and never make it to the end?
While the book is cool in the fact that it is set up so that you can mix and match parts and pieces of the four dolls to create your own, even after reading through all 30 pages before starting, I have to confess that I still struggled at first to get the flow of how it work. Part of me wonders if I just should have bought one pattern and be done with it, but I'll have to make that judgement once I finish. My doll is based on the Avery doll, but my doll is going to have shorter hair, and it's a dark red, "Claret" Loops and Threads Impeccable. I'm not sure about the dress yet. I may make the dress that goes with Avery or the top and skirt that goes with Mia.
I have a lot done but still have much more to do: finish the hair, finish the body, attach the arms, stuff the head and body, attach the head, make the clothes, finish the shoes, and do the face. Wow!