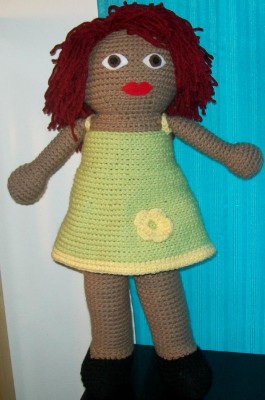 Ta da! She's done, and she's a monster size at 20 inches tall. Compared to many amigurumi projects I do, it seems like she took forever to make, but luckily, I recorded her progress under my Ravelry.com project section, and it says there that I started her on May 26, 2013. I finished her today, June 11, 2013. So 17 days is not that bad when I consider how large she is and the fact that I didn't necessary work on her a ton each day. The last few days I have been focused on finishing her, but before that, I took it pretty leisurely as I worked on this project.
Once I made the dress, I realized that this gal needed some undies, and I like the idea of how the pattern (A Doll Like Me from Fresh Stitches) has the clothes of the doll either attached or stitched as part of the constructions (like the shoes for example). This way, the clothes are not lost as some point later. After finishing the dress, which I also embellished with a little flower, I went back and used a similar technique to the dress and gave her some "boy shorts" style undies.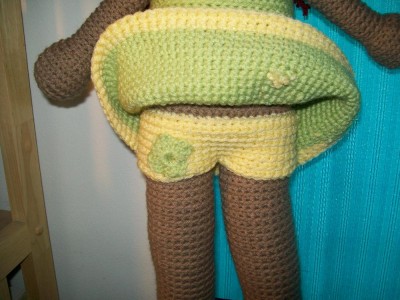 Though she's pretty large, I have plenty of yarn to make another doll, so I'm plotting and planning now. I am not sure if I will make one very similar to her or change it up a little, maybe different hair or different outfit.