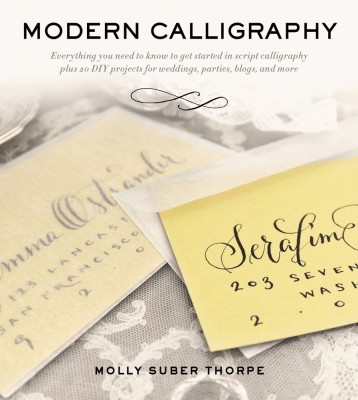 Is calligraphy making a comeback? I have always envied those with beautiful handwriting, and calligraphy to me always looks like someone drew the letters. It is so beautiful and makes a nice touch for invitations, card making, and other paper arts. St. Martins has a new book out for those who want to learn the art of calligraphy. It is written by Molly Suber Thorpe and it's titled Modern Calligraphy: Everything You Need to Know to Get Started in Script Calligraphy
. Here's some info from the press release:
"Calligraphy is about creating something uniquely beautiful, and if Tumblr tags or pinboards have anything to say about it, the time-honored craft is experiencing a resurgence in popularity. Now you can master a fresh take on the lettering style with the help of award-winning designer Molly Suber Thorpe's MODERN CALLIGRAPHY (St. Martin's Griffin; September 24, 2013; $24.99).
The first book to teach this bold new style, MODERN CALLIGRAPHY breaks the process down into simple steps so that anyone can learn to create their own stunning wedding invitations, thank-you cards, gift tags, and more. Starting with an overview of supplies—from paper to ink to pens—you will learn how to form letters, words, then phrases by following Molly's clear instructions and practicing with her provided templates. After mastering letterforms using a pointed pen and ink, you can take it to the next level by learning how to write with watercolor and gouache, or how to digitize your calligraphy for printed use on business cards, menus, and stamps. The book's twenty projects provide inspiration for weddings, entertainment, and personal stationery. Finally, a handy troubleshooting section solves problems like how to conquer large-batch projects and offers helpful instructions for left-handed calligraphers.
With loads of ideas, practice exercises, and helpful tips, you'll soon be turning out gorgeous script calligraphy pieces like the ones featured in wedding magazines and on popular websites like Etsy and Pinterest!
AUTHOR INFO
MOLLY SUBER THORPE is the award-winning designer and calligrapher behind Plurabelle Calligraphy. She is known for her original, contemporary lettering styles, combined with modern layouts and bold color palettes. Molly's calligraphy has appeared in such publications as Martha Stewart Weddings, Country Living Magazine, C Magazine, The Guardian, and I Heart Stationery, as well on hundreds of blogs and in over 80 weddings. She lives in Los Angeles. For more information, visit her website: www.plurabellecalligraphy.com/. "