My yarn crafting has gone down considerably lately due to other projects that have taken my time. I often crochet at night still, but then sometimes I'm too pooped to do much. However, I am hooking a little here and there. One project I finished recently is a beanie style hat for my husband to wear camping when it's super cold out. I used a free pattern called Beanies for Bravery, which you can download from Ravelry.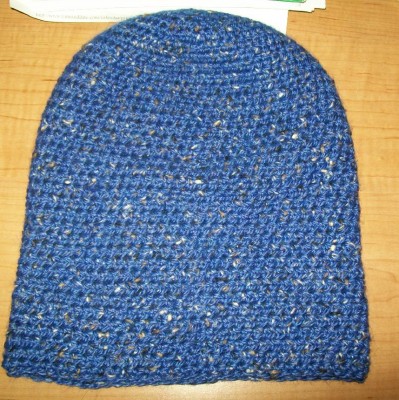 This hat is extra huge because he kept telling me to make it longer so that it would cover part of his neck. I tried to explain to him that it will start to roll at some point and that I could make him a scarf or cowl for his neck, but he was insistent, so this is probably the longest beanie hat known to man. The yarn I used is City Tweed in Cobalt from Knitpicks, and I love, love, love working with it. I have some leftover, so he's getting a scarf made with the leftovers anyway.
My second yarn project I've been working on that is almost off the hook is a baby sweater I'm making while taking the Craftsy.com Crochet: Beyond the Rectangle class. I have to weave in some ends and add buttons. Of course, I have tons of buttons in my craft stash, but do I have any that are the right size and color for this sweater? Of course, I don't! Is there anywhere within a 15 mile radius that I can get 7/16 inch baby buttons? Heck, no! However, I lucked out today and got an email from JoAnns.com for 25 cent flat rate shipping on any order. It's only good for 7/25/13, and I have some buttons on the way so I can finish up this little sweater and finish the class.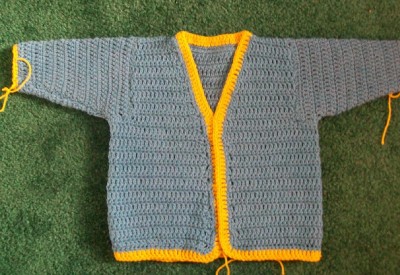 I have no idea why I cut off one end of the arm when I took this photo, but you can get an idea of where I'm at on it. If I had thought ahead and gotten the buttons when I started, this dude would be done. Alas! But, it is turning out pretty cute, and I'm learning a lot in the class. I hope it will still fit the baby I have in mind for it by the time I finish.