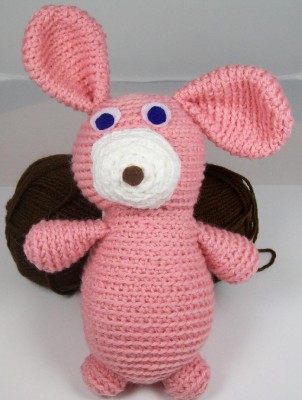 I have had to take a break from Crafty Princess Diaries for awhile because I just had too much going on, including a jewelry book deadline and, more recently, a new dog in our house. My to-do list is still massively long and the new dog needs lots of training because basically no one taught him anything…, but I really miss coming over here and talking crafts, so I'm back! Yeah!
I've been doing a little crafting in between all my deadlines and potty training. Pictured is one of my latest finished project: Blair, the Ghost Bunny. He is a new pattern from Freshstitches, and I have been on the lookout for a good bunny pattern for awhile. Love how he turned out, and I think I have enough leftover of this yarn to make another one. Both, of course, will be added to my small stock of toys to be donated at some point when I get a decent number of them together.
I have lots more to chat about, including a big stack of wonderful craft books to post about, so I'll be back!