Crocheting amigurumi (aka stuffed toys) is one of my favorite techniques. I usually have at least one amigurumi project in progress all the time. I like the challenge of trying a new pattern, but at the same time, I feel pretty sure I will be successful when I attempt a new one because, at this point in my crocheting career, I have made dozens of these. And, for the most part, the technique is pretty much the same as far as counting stitches and increasing and decreasing. I'm not saying they are perfect in any way, but generally, the outcome is okay. For example, here is one of my most recent "new to me" patterns that I finished, Phil, the Groundhog, designed by Stacey from Freshstitches.com.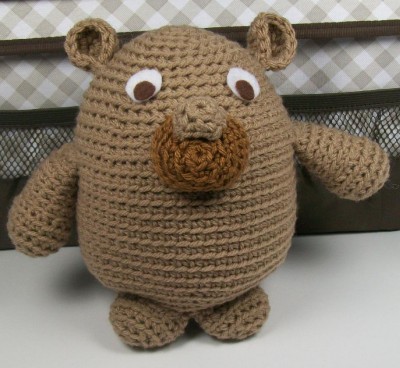 I made him right after finishing another bunny, like
the pink one
I made not that long ago. This time, I made the same bunny but used Knit Picks' Wool of the Andes in blue berry held double. (I really needed a break from acrylic yarn!)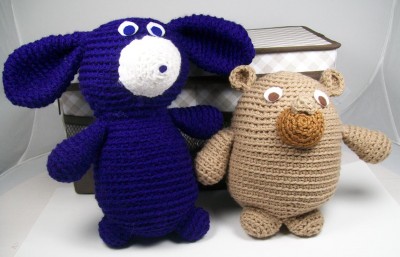 A second reason why I like to make amigurumi toys is because….they are just so cute. I have to admit that the cuteness factor is a big draw, which is why I don't making duplicate toys. Who can resist making a cute bunny or
giraffe
?
My third reason is the best: I donate finished amigurumi to a local women and children's shelter, so I can be reasonably sure that a little boy or girl will enjoy playing and snuggling with each toy I make. Last year, I was able to crank out 18 of them.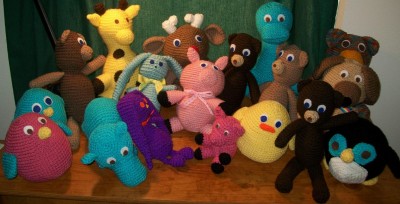 I am not sure how I managed this exactly because this year I feel behind. I have made 6 so far, and a club member has made 2 to add to them. I have one bird that is almost done, but that just brings me up to 9. I delivered the last batch in early May last year, so if I want to reach the same number, I need to get cranking again! I know I'm putting this pressure on myself. While the shelter did enjoy the toys and I received a nice thank you note, it's not like they are calling me up demanding more toys. But, again, it is part of the challenge. I should finish the bird either tonight or tomorrow, so that means 9 down and 9 to go!