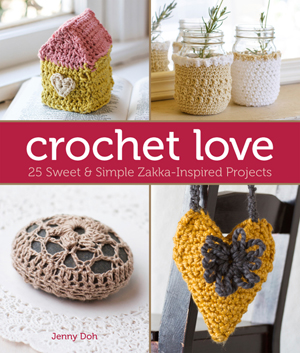 Crochet Love: 27 Sweet & Simple Zakka-Inspired Projects
is written by Jenny Doh and published by Lark. It is a 128 page paperback book with an October 2013 publication date and retails in the US for $17.95 or in Canada for $19.95. The word "zakka" as mentioned in the subtitle is a Japanese term for "crafts for the home," and that is the focus of this how-to style crochet book.
The first 19 pages cover the basics of crochet from materials to stitches, and I am pretty impressed with the techniques part of this section. There are a generous number of photographs that really "show" as well as the text along with it that "tells" you how to crochet. This section assumes you are a novice. It even explains briefly how to read a patterns. I also give a big "yeah" for one photograph of single crochet stitches that are shown with numbers next to each stitch. It is so important to be able to count your stitches (to be able to "read" your fabric) as you crochet, and I know many beginners get confused with this. That is why their first pieces often start becoming triangular shapes because they will accidentally skip the last stitch and thus drop a stitch each row.
Along with the projects being super duper cute, they all look really easy and fun, perfect for beginners or anyone who wants some immediate gratification. I am not sure if I would be inclined to make every single one, but there is a little in here for every taste. The "Soap Saver and Washcloth" project uses hemp yarn, and these would make a nice small gift for someone. Or you could make a paperweight using a rock and the instructions for the "Pretty Paperweights" project. A few other projects that stood out to me as something I might be inclined to make are the "Heart Purse," the "Upcycled Plastic Tote," and the "Binder Duvet." Beginners will be able to make some small and fast projects like the "Birthday Cake Bunting and Cupcake Picks" and the "Lemonade Coasters and Glass Cozies."
I'm actually thinking of giving my review copy to my sister who is just learning how to crochet. So if you have wanted to learn, this might be something to consider. In fact, Amazon has this available for just a little over $12, which is a great price! Plus, there is a "look inside" option there as well.