Recently, I confessed to the fact that my jewelry work area did not have a square to spare as far as work surface. While the room this space is in still needs to tweaking, I can now see the surface and actually make something!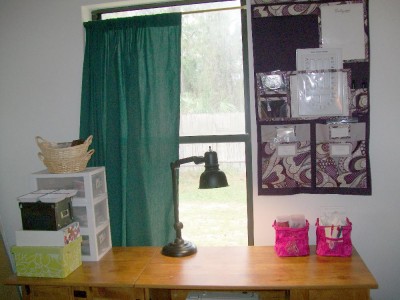 Weee! See how you can now see the top of the desk? Actually, this desk is a sewing cabinet, but it works great for all kinds of crafting, including jewelry making. Now the boxes to the left, they are what I mean by tweaking. The clear shoe box size ones in the back, well, they are full of a lot of stuff that I still need to go through. However, the other boxes on the left have been sorted out with supplies I've received from various vendors that I plan to use for future jewelry projects.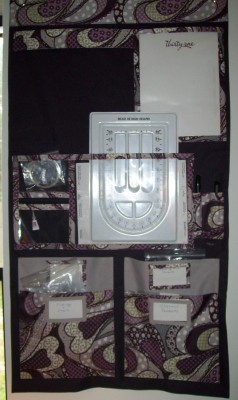 On the left side hanging on the wall is a product I purchased during an outlet sale through Thirty-One, which
I'm an independent consultant
for. It is called the Hang-Up Home Organizer, and my original idea was to use this in my home office, but by the time I got it, I had already gotten that place
whipped into shape
. Instead, I have zip lock bags with various items like findings, chain, charms, etc. and I put those in the large pockets, which have labels you can use. Now these are not all the findings, chain, charms, etc. that I have, but they were the odds and ends spread all over creation at one time. Now they are at least organized again and handy for me to use. I have other items in the small clear pockets, and of course, you can see a bead board in there too.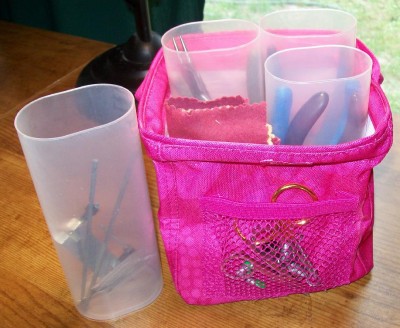 Now the next cool thing, I can't take credit for. If you look to the right on the first photo at the top of this post, you will see a few little caddies there. They are called the Littles Carry-All Caddy, and again, I got a few during the outlet sale. I first thought I would just toss my hand tools in there, but then some brilliant person on Facebook showed how you can fit up to 6 Crystal Light containers in one of these. This way I can keep my tools separate and organized. The other caddy has a box of tissue (for my ever running nose) as well as a pad of paper and post-its and pen for me to take notes as I make jewelry, necessary for later writing it up as a project.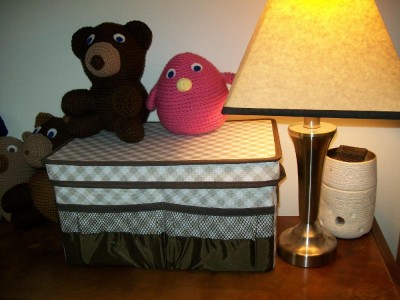 Finally, I guess I should have taken a photo of the inside of this. It is also a Thirty-One product, which I got from the new spring catalog. It's called the Flip-Top Organizing Bin, and I'm using it for seed bead supplies. I can fit a ceramic bead tray as well as one of those felted top boards in there and other beading supplies, and this way, it makes it a little bit portable. And, of course, my growing amigurumi menagerie can use it to hang out on too.
I am looking forward to getting some jewelry made this weekend. I have a resin kit that I've been really wanting to dig into, but resin takes space, and now I have it! Hopefully, it will stay like this for a little while.