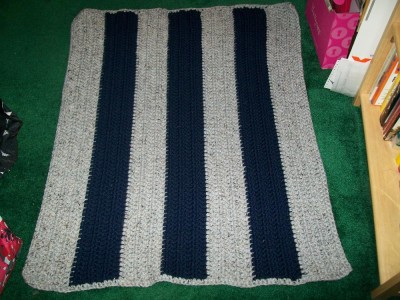 As usual, I always have a number of craft projects going on, all in various stages. This weekend I realized that this small afghan I have been working on was super close to being finished, so I set all other projects aside and concentrated on it. The finished size is 34 inches by 41 inches, and it is made using Wool-Ease Thick and Quick and a size K crochet hook. It is all double crochet (6 rows for each color) with a single crochet boarder trim. The colorways I used are Grey Marble and Navy.
Originally, this started out as a stash busting project, but of course, I did not have as much of this yarn as I thought I had and ended up having to buy a few extra skeins to finish it. Each of the 6 row stripes requires almost one skein.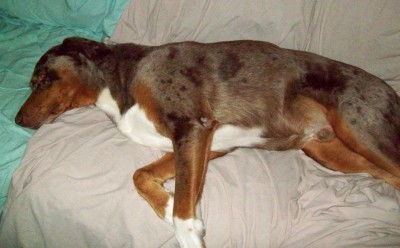 This was going to be a blanket mainly for Jasper, who is our oldest dog and sometimes has trouble getting up on the couch. We have various large dog beds on the floor too, along with another afghan I made for them awhile back, so I thought I should give him another blanket to use down there on those days when getting up on the couch is not possible.
But, Little had different plans. As soon as I set it on top of one of the dog beds, (and all the dogs had taken a look at it), he claimed it for his own and sat like an angel puppy on it almost the entire evening. This was after he had come close to destroying a second water pitcher and chewed up one of the baseboards. But, for a few hours, he was an angel.