Sometimes I don't get a project right the first time. This includes crafting but also other projects, for example, house organizing projects. Today I decided to fix two projects that just did not turn out right. One is for the house, and the other is a jewelry project gone wrong.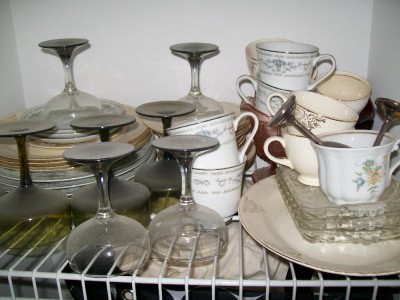 First, I tackled a small hall closet that was full of odds and ends, mostly items that are kitchen related but we don't use that much. This included some China and Depression glassware, the kind of dishes I would put in a China cabinet if I had one. I put them in the closet with the notion that when we might want to use some of it, we could just take it out and use it. Well, no big surprise, we rarely if ever used any of it, and it just collected dust. Plus any time I pulled something like a sheet or whatever out of the closet, I would worry that I might knock over something breakable.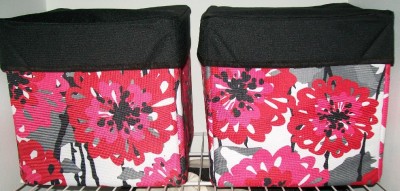 Last month
Thirty-One
had a special on its organizing products for small spaces, and I had gotten a Junior Cube with a spring add on kit (for consultants only) I had purchased. Of course, I loved all of the products in the kit, but the Junior Cube and Lid were just what I needed to organize all these dishes. I used the cube from my kit for some jewelry making supplies, and I purchased two more cubes for the closet. I washed and dried all the dishes, and I put our wedding China all in one cube, and the other cube is mainly glasses. I also pulled out some dishes for us to actually use now. They are not super expensive, so why not use them? And I purged some old dishes from our kitchen as well plus decided to pack up a set of China I've had since I was about 20 and donate it to Goodwill. It is not a complete set, I've used it maybe two times, and I think it originally was some kind of grocery store deal, something like spend $10 get a plate. Yup, time to go and find a home somewhere else.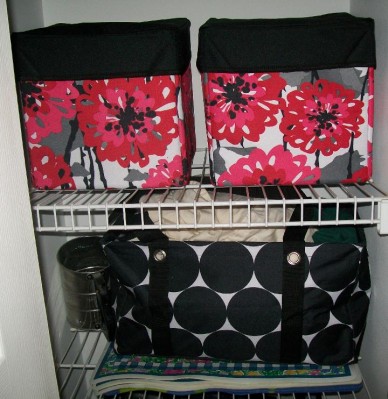 The closet is not perfect, but between the cubes and some utility totes, it's getting better.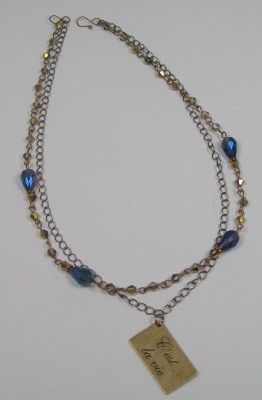 My next "try it again" project was this necklace. I actually think this was a project I did when I was writing for About.com. It is a double strand, and while I like the look of double strand chain-style necklaces, admittedly, I have trouble wearing them. I just get them all tangled up no matter what I do. So I would try to wear this, it would get tangled, and I'd pull it off and throw it in a jewelry box. But, I love the beads in this, and the charm is so cute! So I pulled it out this weekend, and while looking it over trying to figure out what to change about it so I'd wear it, I noticed a massive boo-boo: one teardrop bead is orientated in the wrong freakin' direction! How did I just now notice this?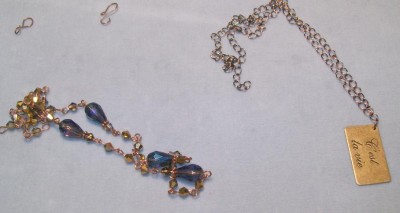 So out came the pliers, and I took the two strands apart and repositioned the bead that was facing the wrong way. I was so glad I made this with unwrapped loops and not wrapped loops, so it was very easy to disassemble.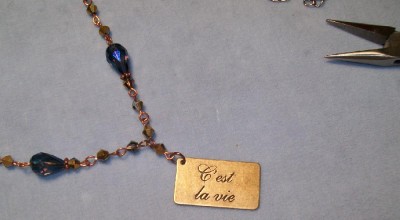 There were 5 bead stations in the center of the necklace originally, so I took one of the stations and moved it to hang from the center. Then I removed the charm from the chain strand and connected it to this center bead station.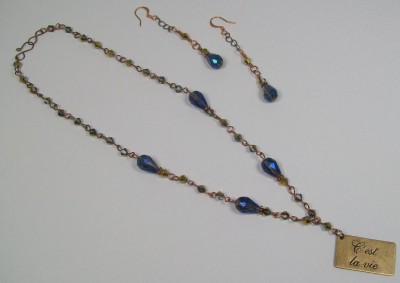 Basically, I reworked the necklace and simplified it into one strand that I think will be much easier for me to wear. I also dug around because I wanted to make some matching earrings, and wowie, I found a pair I had made already. Now I love this set, and I think I will wear it more comfortably.