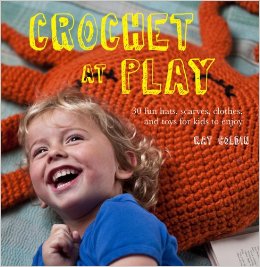 Crochet at Play: Fun Hats, Scarves, Clothes, and Toys for Kids to Enjoy
is published by Running Press and came out this past October. It's written by Kat Goldin and focuses on fun patterns for babies and toddlers. It retails for $20 in the US and $23 in Canada, though the current Amazon price is about $15. There are 30 projects included, all of which vary as far as difficulty and size, but considering the number of projects, I think the price is pretty good.
The beginning part of the book covers a lot of crochet basics such as how to do the various stitches and techniques, starting with chain and moving up to working in the round. It also covers the "anatomy" of a stitch, which is a super important concept for beginners. While I did not see anything unusual in the illustrations for this section, I do think with maybe a few YouTube videos to supplement, a beginner could learn to crochet with this book. Plus, there are a lot of beginning level projects.
Beginning level projects (hats and wearable toys for example) are mixed also with a few more advanced ones, such as sweaters. These are marked mainly as "intermediate," but I would say some of those (like the Wolf sweater) are probably more leaning towards the advanced level, just my opinion there. Many of the projects (like a number of the hats) are stitched using amigurumi style stitching in the round.
All of the projects are really super cute. They mix functionality with fun. For example, the Wolf sweater project I mentioned earlier has a hood with little wolf ears on it. The Baby Ballet Slippers project can be teamed up with the Tutu project. The Witch/Wizard/Princess hats are some examples of the easy design that a beginner could tackle, or if you are more experienced and need a quick gift for a new mom, who wouldn't love a cute wizard hat?
I like that there is a good range of designs here (both for girls and boys), so you can make something fast and simple, or if you want to go all out, you can take on something more challenging. For anyone who regularly finds her/himself needing to whip up a baby gift, this would be a great book to have in your library. Your gifts would be easy to make but very unique and whimsical too.