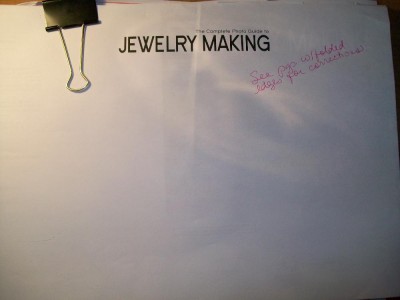 I got the laser copy (aka galleys) of the new edition of
The Complete Photo Guide to Jewelry Making
. This was sort of my weekend project in between feeling sick and also getting other crafting done as well as a little housework.
This is a step in the publishing process that is kind of interesting but also very tedious too. The interesting part is that you get to finally see it all put together after sending parts and pieces of documents, images, and finished jewelry to the publisher for months. The tedious part is that you have to go through and review/edit/proof everything! This is my one chance before it hits the printer to make sure everything is right, and of course, that is not really possible. I try. I am actually known as being very detail oriented. (Any place I ever have worked I used to drive people crazy with this in fact. Don't ask me to read over something unless you really want to know what I think, LOL!) But, of course, I'm not perfect.
That said, it looks pretty dang good! There are a ton of new projects and a whole new gallery section. This is the largest book I've ever worked on. It' us HUGE! It is packed with loads of techniques and projects. If I'm counting correctly, this has 49 projects.
I'm not 100% sure when this will be out. Possibly we will see it on bookstores this April, but as soon as I do know, I will be telling everyone. I actually have not worked on any jewelry books in awhile and thought I needed a break from them, but I am now thinking otherwise. Wheels are turning.