I was recently contacted by the folks at Hamilton Beach and asked to test out and review a product called the Durathon Iron (#Durathon). Believe it or not, I iron fairly regularly, and I'm not just talking about when I pull out my sewing machine or cross stitch (which I have not touched in awhile since I need to get a good lamp/magnifier to order to be able to see well enough to work on it). Just about every week I'm ironing a shirt for me or my hubby, and he also has to wear ties almost every day, so I have to touch those up after he has worn and mangled them.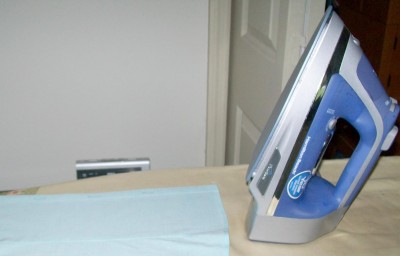 I have to admit that my old iron was…well…ancient! I won't say who the manufacturer was because it is a really old iron so it's not like I was using the latest and greatest version, but even when it was new, I was not able to get it to work as far as the steam part. I ended up having to spray with a water bottle. I was very happy to see that I could get the Durathon iron's steam and other elements, like the spritzer, to work pretty easily. It comes with a small manual, which I found very easy to understand. Some other items I liked about this new iron is that it has a retractable cord, so when I put it away, I don't have the cord going everywhere. The safety feature is also really good because if you leave it on for a period of time and it is not being used a sensor will shut it off. Simply put – I love this iron!
Anyone who sews or is involved with other types of needle crafts knows how important stopping occasionally to iron your work can be to the outcome of the finished product. Even yarn folks can use an iron to steam and block some finished items, so a good iron is really just like any other important tool in your craft room – necessary.
Okay, now for the giveaway info! Hamilton Beach has agreed to give one of my readers a #Durathon iron! Squee! To enter, just answer any of the following questions in the comments section of this post no later than March 7th, 2014 midnight eastern time:
Do you ever use an iron when you craft? If so, what do you use it for?
Do you iron cloths or other items for the home or your family? If so, is there anything about your current iron that drives you crazy?

Make sure to include an email address so you can be contacted if you win. The winner must reply back within 3 days of me emailing her/him, and I am not responsible in anyway, shape, or form if the winner does not reply back in a timely manner. Spammers will not be included in the drawing, obviously. One entry per person, etc. etc. The winner's name and mailing address will be forwarded by me to the company who will then send out the prize.