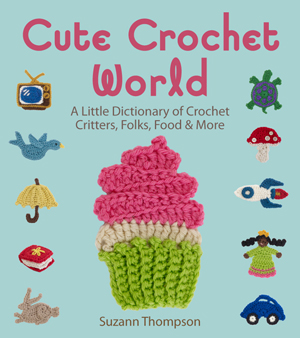 Cute Crochet World: A Little Dictionary of Crochet Critters, Folks, Food & More
by Suzann Thompson is published Lark and has a copyright date of May 2014. It retails for $17.95 (though, of course, you can get a discounted copy from Amazon.com). The book concentrates on making motifs and embellishment items, so the majority of the projects are two dimensional. They are made with the idea that you can then take them and add them to items like clothing and blankets or you can turn them into ornaments or jewelry items. There is a section in the book where the author gives lots of ideas for using the finished projects.
While I tend to prefer three dimensional projects, I have to say that I was impressed with the large number of projects in this book, over 50, as well as the variety. I've seen books like this before that are filled with one or two types of projects, like leaves and flowers, and that's it. However, she has everything from cupcakes to mushrooms to televisions in here.
Most of the projects are small and not overly complicated, which means they are good short-term projects to attempt. Plus, another huge "pro" for these types of projects is the amount of yarn needed is minimal. In fact, if you are looking to bust out some stash or want to use up all those scraps you've been keeping because they were just too large to throw away, this is a good place to look for project ideas. For example, you could make some cute cupcakes using lots of different yarn colors and sew them (which is explained in the book) onto a pre-made baby blanket, and voila! You have a very fast baby shower gift that has a little hand-made quality to it.
i would feel comfortable recommending this book to anyone who already enjoys making embellishments, and I would even go so far to suggest beginners will enjoy this as well since none of the projects require a huge commitment as far as time.