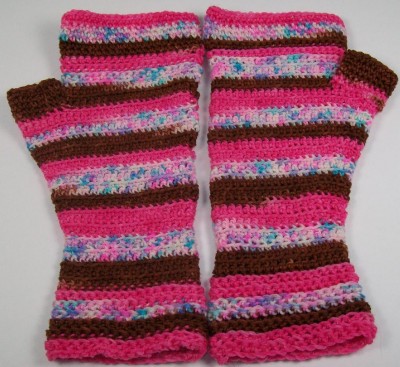 The Cupcake Fingerless Gloves
I started recently
are done! And I love how they turned out. The yarn (
Desert Vista Dyeworks
Viso in the Happy Birthday, Cupcake colorway) was wonderful to work with. Heck, even the striping almost matches, and while I did start the second glove around the same color as the first one on purpose, I honestly did not do much else to get this to happen. This yarn is sock weight made of 75% Superwash Merino wool and 25% nylon. It is not necessarily super soft like the previous pair of gloves
I made for my hubby
, but that yarn had some cashmere in it.
The pattern is a free one from Lion Brand called "All Season Wristers," and I did modify this a tad. I made the larger size (that starts with 34 chains) and used a size G hook instead of an F. I also just attached yarn to the hole area for the thumb and did around 6 rows of single crochet. For me, that made the thumb part much easier than the instructions provided. Also, because I like to be able to turn down these gloves so that you can have the option of wearing them on the long side, I added about an inch of single crochet at the top of each one.
These are ready to be soaked and blocked, and then I have plans to mail them off to a friend of mine who is yarn worthy. I have a lot of left over yarn from this skein, so I'm toying with the idea of seeing if I can squeeze out another pair. I may even rewind the ball of yarn to see if I can get two even balls and try making them two at a time and see how that goes.