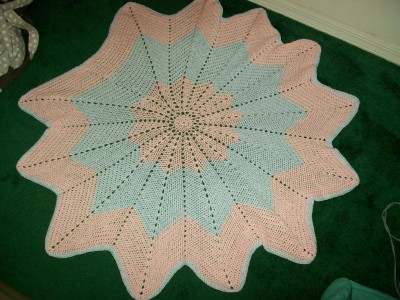 Because I was so close to finishing this baby afghan, I set my knitting aside today and finished this up. It's
another star afghan
. With this one, I made it larger using 2 skeins of Bernat Softee Baby in pink and about 1 plus skeins of the same brand of yarn in Baby Denim Marl.
The center pink is 10 rows, then the blue is 10 rows, then the next pink section is 9 rows, and then after that I trimmed it with the blue yarn, one row of single crochet followed by one row of half-double crochet. It ended to be about 45 inches.
This made a good dent in the baby yarn stash, but I still have a fair amount of various blues, so I think I will whip up a granny square style one. I like baby afghans that start from the center and work out because that way I don't have to worry about the end size so much. I really don't want to have to go out and buy yarn to finish up a project when I'm trying to destash!