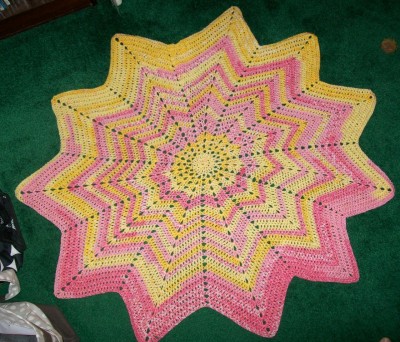 Well, I got a bee in my bonnet and have decided to do some baby yarn stash busting this summer. My first stash buster project is yet another star afghan. This is a free pattern I found on Ravelry, and it's called the
Rainbow Ripple Baby Blanket
. I follow the pattern for the most part until I get past the center, and then from that point on, I just keep doing the "large shell" and don't switch to the "small shell" part of the pattern. It's almost all double crochet and very addictive. Which means…of course….I started another one after the one pictured above.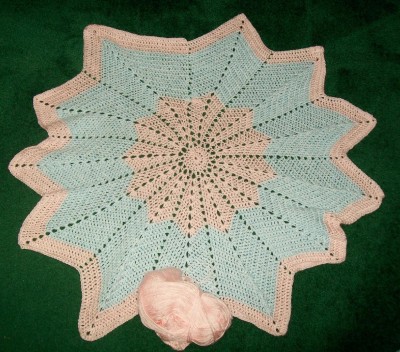 This second afghan I am switching from pink to blue and will be larger than the first one (which is about 39 inches from tip to tip). Each color will have 10 rows, and depending on how much yarn I have left (I have 4 skeins of this Baby Bernat yarn), I might add a trim.
I am using a size H hook, and this yarn is sport weight. This combination means you can whip this up super fast, and you end up with a fairly light-weight blanket.
My baby yarn is stored in one large plastic tub, and it's about half way full at this point. My goal is to use it all up in the next few months. I have a relative who just became pregnant (perfecting timing!), and anything else I don't give to her, I will probably donate to a local shelter.