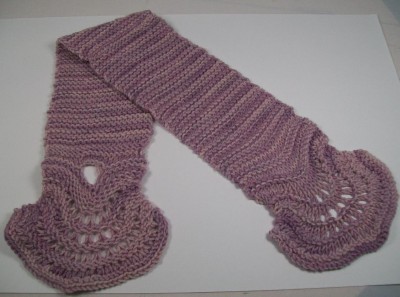 Here it is blocked, tails woven in, all done, my first
Knit Lab
project! I already knew garter stitch fairly well before taking this class, and I had a little bit of a handle on purling. However, along with covering those stitches, this project taught me how to knit two stitches together, yarn over, and steam block. And I kind of like the finished project because it's small and relatively fast to make.
The yarn is from Drew Emborsky's Decades line of yarns in the Iconic blend and Fer Sure colorway. I used size 7 needles, just some very old aluminum Boyes my mom gave me from her old knitting stash, as she no longer knits.
The next project in the class is another scarf (le sigh….really tired of scarves I have to admit), but I'm pressing on and hope to finish this class before my summer break is over.