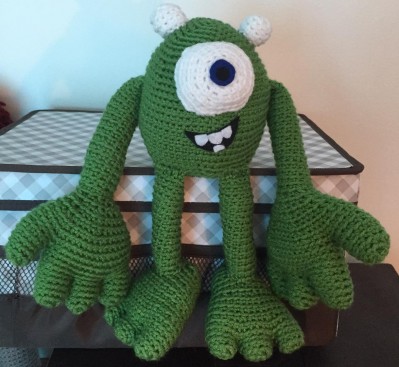 I have finished Mike the Monster! This is a free Fresh Stitches pattern, and I made this as a gift for one of my nephews. You can get an up close look at him in episode 9 of my Crafty Princess Diaries Podcast.
After you watch my podcast, stop by some of these other crafting blogs for some creative ideas:
Carmi's Art/Life World
This post features a resin bezels necklace that will out do any ugly sweater!
Peace Ornaments
Cherie makes ornaments for her family homemade ornament exchange.
Cupcake Liner Christmas Trees
Cute cupcake liner Christmas trees are everywhere. In learning to make them, Eileen developed some helpful techniques.
Beading Arts
Metal mesh ribbon holds so many possibilities for designing jewelry! Cyndi starts a new tutorial on Beading Arts.