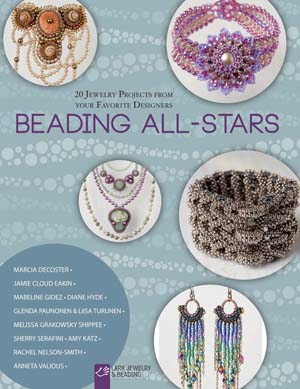 Beading All-Stars: 20 Jewelry Projects from Your Favorite Designers (Lark Jewelry & Beading)
is published by Lark and came out in September 2014, so it's relatively new. Retail cost in the US is $27.95 and in Canada $30.95. It is called "all-stars" because the publisher selected what they consider to be "superstar" beaders (not surprisingly who have been published by Lark as well) to design the 20 jewelry projects in the book. Experienced bead weavers will recognize names such as Sherry Serafini, Jamie Cloud Eakin, and Amy Katz for example.
The book is organized with a section for each designer, and in these sections are projects followed by a mini-gallery of her work. The instructions for the projects are very detailed and include colored illustrations, photographs of the finished jewelry pieces, and in some cases design variations. In the back of the book is a nine page techniques section that covers stitch instructions and lots of basic information.
Most of the projects are fairly complex. However, you could easily take parts of some of the projects and use them in different ways. For example, you could take a beaded focal point from a bracelet or necklace and turn it into a pendant and just add a chain or bead strung necklace strand.
For seasoned bead weavers, there is a lot to offer here, and most will be able to settle right into the projects. Adventurous intermediate beaders, I think, will also be able to work through most of the projects. Complete newbies will be inspired by the intricate and beautiful beadwork, but I would hesitate to suggest this as a first-timer's introduction to bead weaving. It will definitely be something to aspire to though!