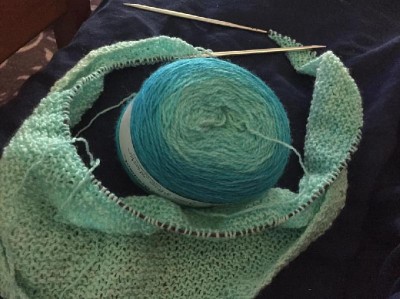 My sister,
the Tappingflamingo
, bought a gorgeous skein of
50 Shades of Gradient yarn
when we were on one of our trips to downtown Cocoa Village, Florida.
We chatted about it in one of our podcast episodes
. She bought the yarn and then asked me to turn it into a garter stitch knit shawl for her. So it was a win-win. She got the finished product, and I got to knit with yummy and pretty yarn.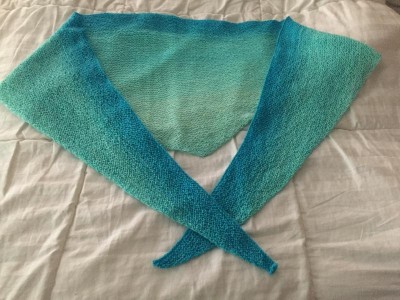 This is a very simple design where you start with three cast-ons, and then you knit and increase on each end so that it grows. I just keep going until I use up almost all of the yarn. Unfortunately, I'm paranoid about not having enough to cast off at the end, so I usually end up with an extra bit more than anticipated.
I think this is about the fourth one of these I have made, and I keep telling myself that I need to make something more difficult and stretch my knitting muscles. However, at the same time, I just want to knit and enjoy the process. Oh, and enjoy the yarn. I did like working with this yarn. It feels soft but isn't so soft that's slippery and hard to work with. When I made a mistake and had to rip back or tink, it didn't tangle. I think I only had one knot issue (of my own making), but otherwise, I never had to break the yarn and weave it in the middle of a row. I was hoping the gradient would look less subtle, but I think my sister will like this. Plus, it's a good color on her.