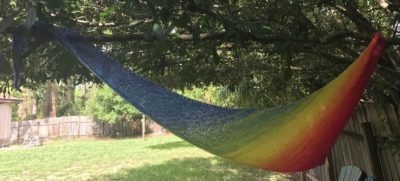 Ta da! I have frogged and re-knit this shawl way too many times to count, but it is finally done. This is a free pattern available through Ravelry simply called
Linus
, and it is an asymmetrical shawl knit in garter stitch. While I've been knitting for a few years now, I am still not that great at is (thus the constant need to frog or tink on just about every.single.project), so this is a pattern that is great for beginners. I have already started another one.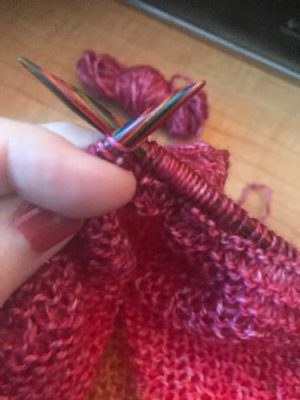 I used
50 Shades of Gradient yarn
in the Cocoa Beach colorway. I love all the colorways of this yarn, but after making this and another similar shawl for my sister, I don't see me using it again any time soon. It is not friendly when it comes to frogging and will often tangle as I pull on it. I also found it a tad splity. More experiences knitters probably wouldn't have these issues. For knitting needles, I used 5mm Harmony from my interchangeable set. (
I have a review of these and other Knit Pick needles on my Youtube channel
.)
This Linus shawl is super long, and it wraps more like a scarf. I have no doubt there are other ways to style this, but below are a few photos of my first attempts.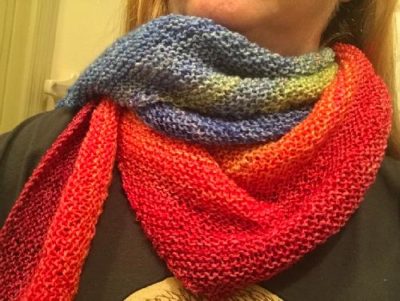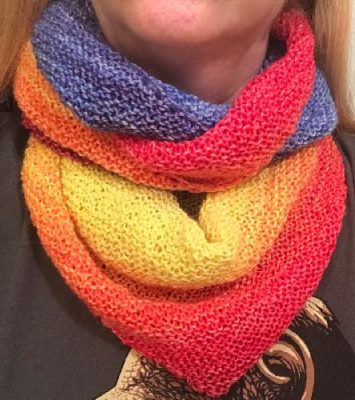 When I first started it, I was having trouble remembering which row I was on when I would put it down (even though there are only two row repeats…yeah…um…pathetic), and I was having problems understanding the knitting jargon (limited though it is) on the pattern. However, I found a wonderful video on Youtube from Fiber Spider (embedded below) that helped me tremulously. If you are knew to knitting or just want a no-brainer project, I highly recommend this free pattern!