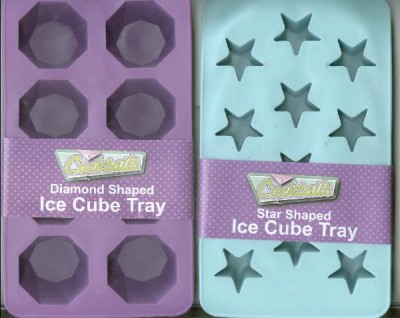 After watching this very cool video on how to make a resin bracelet by Jennifer Perkins of the Naughty Secretary Club, my shopping cart in Target did an automatic about-face (insert sound of tires squeeching…rrrrrtttt…here) while cruising through the dollar section of the store. Ice cube trays – and not just any ice cube trays but trays with cool shapes in there, and yep, for $1. Right away I thought of Jennifer's resin video I had just watched the other day.
Now, of course, she uses rectangle-shaped trays for her resin bracelet components, but I realized these shapes might work well with some kind of resin project using the same or similar technique she demonstrates in her video.
I'm sure all Targets have a different stash of $1 stuff, but just in case you happen to be in your own local Target in the near future, keep an eye for these.
*NEW* Naughty Secretary Club Resin Bracelet