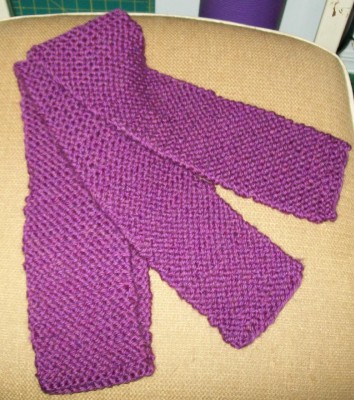 It is done! Finally! Now that I look back on some of my previous blog posts about this project, I realize it really did take that much time, less than a month. Considering I am working on a few other yarn projects as well as jewelry projects, and of course, there is my job and life in general, I think I did pretty darn good on the time factor.
This is my third knit scarf using only one stitch – knit. However, there are some differences between this one and the previous two: I used much smaller knitting needles (size 10 vs. size 13), and I used thinner yarn (Lambs Pride Super Wash bulky from Brown Sheep Company vs. Wool-Ease Thick and Quick). Even dropping down to a smaller size needle was challenging for me.
I think, now, I am confident enough to turn back to the Intermediate Scarves and Stitches e-book I bought over the holidays and tackle purl stitch. I felt like I needed to get the knit stitch down a little bit better before moving on, which is why I whimped out and made a third scarf in knit before starting the first project in the e-book. That one requires doing purl and knit, and I just kind of freaked a little when I realized this, or I should say, my hands said "are you crazy?" when I tried it, so I felt like I needed to take a step back before taking two forward.
Now that I have made two loom hats and this scarf using the goodies from my LYS purchase, this means I can allow myself to return for more fancy yarn, yeah! But first I have to pick a project that will be worthy of the yarn. Here is one of the hats next to the finished scarf. (The second hat I plan to gift to a friend of mine.)