I posted recently that after frogging a shawl that I was making using purple wool yarn I was playing around with the idea of using the reclaimed yarn for making bags and then felting them. I even did a fair amount of research, though admittedly I did briefly and unsuccessfully try felting a few years ago. This time would be different (I told myself). I watched a few YouTube videos and found instructions on line as well. I even combed through some Ravelry.com archived forum posts. I was set!
First I knitted a swatch. Yes, me swatching! Who would believe it? But I figured I needed to know how much shrinkage to expect. I knitted up a 2 1/4 inch by 6 1/2 inch swatch to experiment on.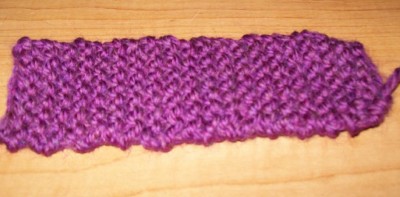 Then I found an old pair of jeans, set my washer to the hot setting, and threw in the jeans, swatch, a little baking soda, and some soap. Voila! errr…well…not exactly voila…

Not only is the swatch not felted, though yes a little on the fuzzy side, it actually grew to almost 8 inches long! So I figured I'd give it another go in the washer. I noticed my hot cycle ends with a cold cycle. This time I opted for the warm/warm cycle instead, and to help with the shrinking issue, I dried it as well. And voillllaaaa???

It was a tad fuzzier but still not felted. It was maybe a tiny bit smaller than the expanded version but not much smaller. So I had to attempt one more time. I threw the swatch in with a load of clothes (since the dye did not run at all in previous washings) and also dried it with the same load. And….

It is smaller (2 inches by 6 inches), the fuzz shortened up somewhat, but still no felting is going on! I went back to the web and read more about felting and watched a few more videos, and finally, I found the answer! According to a KnitPicks.com video, you can't felt super wash wool. I then checked the label and am now banging my head on my desk! I did not see this handy little factoid any place else on-line! Back to square 1 of what to do with a heck of a lot of purple wool yarn!