I'm a fairly new shopper at Knit Picks. I purchased some Brava acrylic recently for a baby hat I made for a friend, and about 2 days after I ordered it, I got an email about a sale they had going on as well as an offer that if you made a purchase (of anything) you got a free skein of Brava. ERRrr….yah…kind of bummed me out since I had just ordered some of that! It would have been nice to be given the skein when I had made the purchase! But, timing is everything, right? And I have heard so much about this company and its yarn, I went over to take a look at the sale. I was really impressed with some of prices, and I am still trying to expand my yarn horizons, and oh, yeah, I have a thing for baby alpaca now, so I caved and ordered (after doing some yarn research of Ravelry).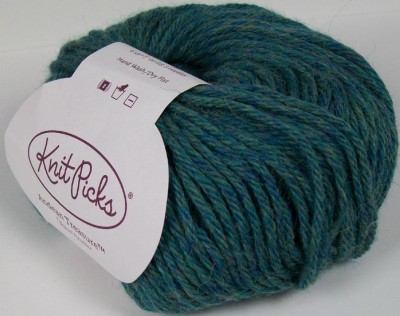 First I went for some more baby alpaca, Tidepool Heather Andean Treasure. I got a bunch of this because it was about half the cost of what I had paid at the not so local yarn store, and I had dreams of making a super soft shawl out of it. Now that it is here and I've touched it, I'm not so sure. It is soft, but compared to the other alpaca yarn (from Casade), it is not thrilling me. It is soft. It just isn't "angels are singing" soft when I touch it. I guess maybe you get what your pay for.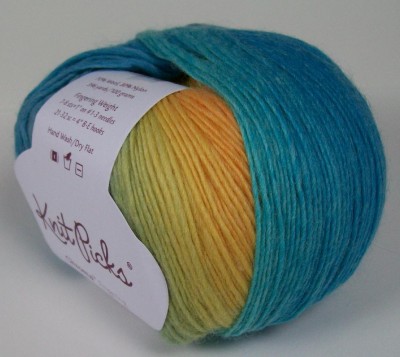 My other yarn acquisition included some fingering weight Chroma in a colorway called Guppy. I may need to see a shrink for ordering such thin yarn, but I'm imagining a light, bright, and lacey shawl that might be gifted if I live long enough to make it.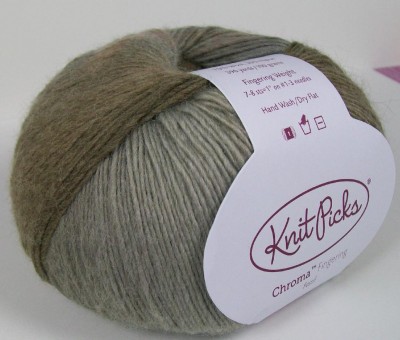 Here is some more Chroma yarn, also in fingering, in a colorway called Fossil. This allocated in my mind for a shawl, this time for me, possibly something I could leave in my office at school.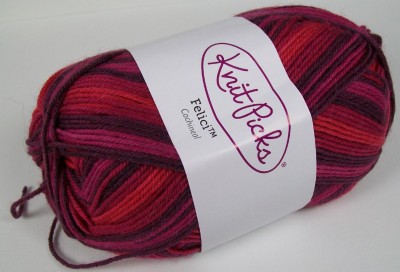 This is some sock yarn I plan to use for making fingerless gloves for a friend of mine who loves red. It's called Cochineal Felici, whatever that means. I'm doing pretty well in the fingerless gloves category right now, so I don't think I'm delusional imagining this project.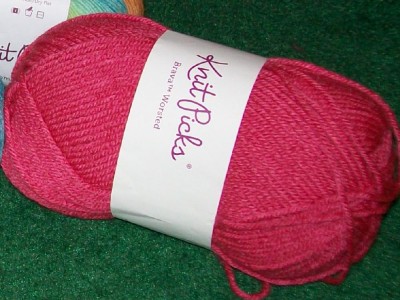 Finally, here is the "freebie" (ha ha) that I got in Rouge. I plan to use this for making some toy crowns for next month's Crochetlist donation drive.
I'm not sure if I'm a Knit Picks convert yet. My experience so far with customer service was not so great. I won't give details because so many people rave about this company, and I'm going to give them the benefit of the doubt and assume that my experience was an anomaly. As far as the yarn, I was disappointed in the quality of the alpaca compared to my previous alpaca purchase at a yarn store, but I've learned a valuable lesson that not all alpaca is the same. In fact, since then I've read on the Ravelry boards that some can even be itchy…yikes! I'm hoping that once I actually start to use some of this yarn, especially the Chroma which I love the colors of, that my opinion will change.