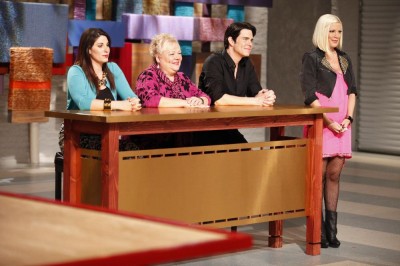 Remember back in the day when you could actually watch craft shows on TV, and not just on PBS? Finally, crafters are getting some of TV time again. Crafting is mixed with a dose of reality TV and competition in a new show coming out Tuesday 7/26/12 at 9pm central time  on TLC. It's called Craft Wars. I was lucky enough to get a chance to view an early screening of this new show, and I was surprised at how much I enjoyed it.
The basic premise of the show is for three crafters to compete against each other by making projects assigned by the host, Tori Spelling. The finished product is then judged by Erica Domesek (author of the DIY book, PS I Made This), Stephen Brown (author and founder of the multi-million dollar gift wear company Glitterville Studios) and Jo Pearson (author and creative expert for Michael's). There are two rounds of competition. The first includes all three crafters, and then one is eliminated before the second competition. The final winner receives $10,000.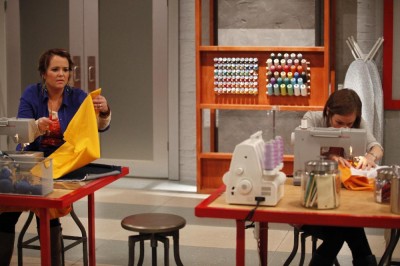 I have been seeing the clips on TV for this show for a few weeks now, and one thing I wasn't too sure about was how long the crafters had to do their magic and what kind of support (if any) they received. I was concerned that they might get something ridiculous like 5 minutes to create a prom dress or something, but I was pleasantly surprised. Yes, they are crunched for time, but for the first round they had an hour and the second they had 5 hours. Doable to a certain extent.
Contestants also received help in two ways: hands-on and via supplies and equipment. For the shorter round, their husbands assisted them and then later three additional helpers were provided for each contestant. On top of this, they had a wood shop available as well as the "Michael's wall," a shrine of everything craft related.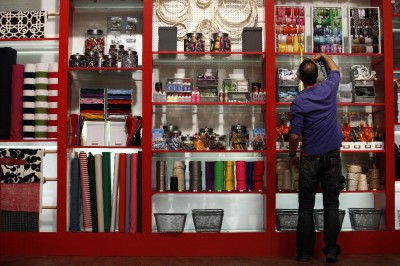 You can see a trailer and more information about this new show at Craft Wars TLC. What a great show to watch while your knitting or beading, hey? Don't forget to watch and also set your DVRs.