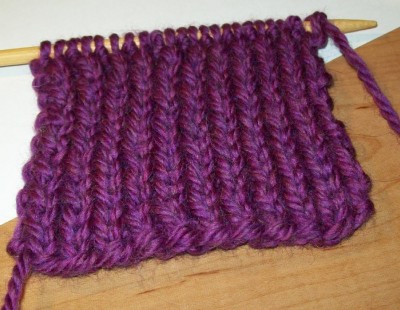 Here is more photographic evidence that I can sometimes manage to do knitted ribbing. I says sometimes because I get about this far, a few inches, and then I screw it up! Though I drop a stitch sometimes, more often I'm adding stitches. Yes, and I'm not even sure how.
One issue with knitting versus crochet is that you can fake stuff so much easier with crochet. If I were to have an extra stitch in a crochet scarf (I was attempting to make a scarf here), I would just decrease to remove a stitch some place and all would be well. Or at least, no one would really be able to notice the flaw unless they really, really looked for it. But with knitting, nope, you can't fake it.
I know there are different ways to fix stuff, and my Knitfreedom e-book does show how, but right now, I'm just frogging and frogging and frogging some more. I will say that I'm becoming an expert at casting on though. I don't think I will ever forget how to do a long tail cast on. I can almost do it blind folded by now!