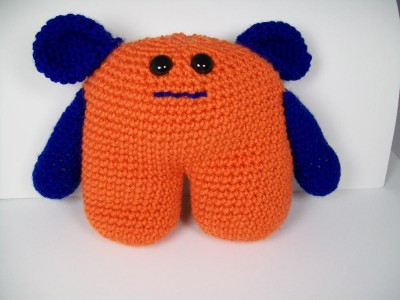 I am sure most of my readers have heard of Craftsy.com. It is a web site for crafters that includes workshops, patterns, crafting supplies, and on-line classes. After my dip back into amigurumi – and because Craftsy.com was having a sale on its on-line craft classes – I decided to sign up for a few. I signed up first for the Design Your Own Monster class taught by Stacey Trock. I watched a little of that, and then there was another sale on classes, so I signed up for the Woodland Animals class too. Both classes normally sell for $19.99 each, but they were on sale for awhile for $14.99. Even though I've made a fair number of amigurumi pieces now, I am looking forward to learning some extra tips and techniques in these classes. Then there was a free class offered, which I believe is still free as of this post called, Know Your Wool.
So far I've watched a little of each of these classes, and I'm pretty impressed. They are broken up into video segments, so you can watch little bits as you work through the class. For the wool class, you even get to go on a virtual field trip to check out some real sheep. Each class also includes handouts, and for the amigurumi classes, you get patterns as well. Plus there is support offered by the instructors. You just post a question and get a reply. Once you register on the site (which is free) and pay for your classes (prices on that vary), you get access to the class forever, or as long as Craftsy.com is around at least, which I hope is a long, long time!
They have classes in all kinds of craft subjects from cooking to knitting and also jewelry making. For anyone who wants to test out Craftys's on-line class concept, I recommend one of the free classes it offers right now such as the Know Your Wool, the Short Rows class (for knitting), Modern Buttercream (for cake decorating), and Sewing Machine 911. Also, once you register on the site, you will get notices when classes are on sale, and so far, for both the classes I paid for, I received an offer to purchase a class for $25, just didn't find one I'm ready to take right now at that price at least. However, the average cost of classes (when not on sale) ranges from $9.99 up to $39.99, so I think most are pretty reasonable even when they are not on sale.