KALs or CALs , which are acronyms for knit along or crochet along, are a little new to me as far as participation. I've known they exist, but most don't appeal to me. I don't like having pressure about my crafting put on me. I add enough on my own, so having some kind of deadline imposed by a KAL/CAL is extra pressure I don't need. Another reason I haven't done them in the past is because often I just can't do them. For example, a sweater knit along is something I just can't ever see myself doing. I wear sweaters only a few weeks of the year, and that would be such a huge project for an item I'd hardly ever wear.
All that said against KALs/CALs, I have recently participated in a few and got sucked into them because of my craft podcasting addiction. So far, the two that I've completed have been good experiences. Positively Knitting is finishing up a KAL this month called the Sacred Skein Craftalong. The idea is that you use yarn that you have been hording because it is so wonderful that you can't bring yourself to use it. For me, it was three skeins of Chroma yarn in the Guppy colorway. I love this yarn, but I was determined not to use it unless I found the perfect project for it.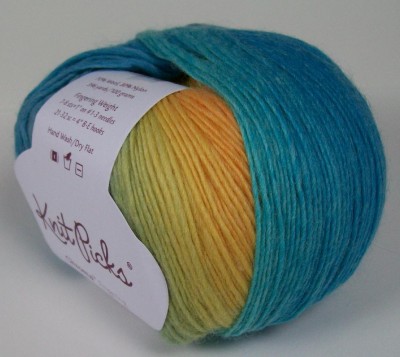 Luckily, I found the Cascading Stylish Shawl pattern, and I'm thrilled to say the shawl is finished and turned out great!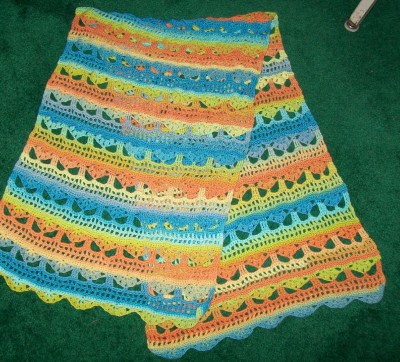 The Local KAL, aka LoKAL, is another one I participated in, and this one is run by The Fat Squirrel Speaks. She challenged participants to find local yarn and use it to make whatever they want. For me, this at first seemed tricky since there aren't many sheep in Florida, but then I realized there are lots of alpaca farms in Florida. I found an Etsy seller who makes yarn and fleece from her own Florida alpacas, and I was set with my local yarn. When I got it, though, it was not the buttery soft yarn I expected. However, the seller also tossed in another skein of alpaca for free.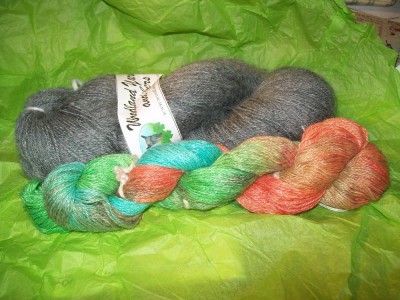 So as I tried to figure out what to do with the gray yarn, the original skein I had ordered for the LoKAL, I began a knit scarf with the other yarn. It is also not necessarily buttery soft, but it is much softer than the gray yarn, which is actually pretty dang scratchy. The LoKAL ends in the middle of October, so I was running out of time to finish the scarf, and then I saw some participants post pictures of amigurumi's they had made. Voila! I got the idea to use the scratchy gray yarn and make mouse toys for my cats.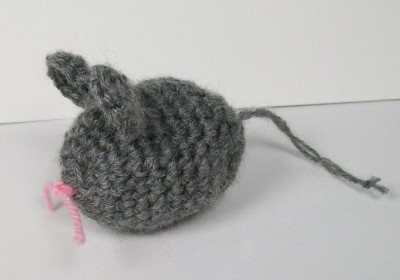 This is obviously a "before" picture. My cats love this little guy. I have tons of yarn left, so I plan to make more for my cat crew as well as extras to donate to a local shelter. This project is not the large, complicated one I had expected to do, and the yarn was not exactly a wonderful find on my part. However, the cat toy idea is a perfect way to use the yarn and make some cats happy. So again, I feel like I got something out of participating in this KAL.