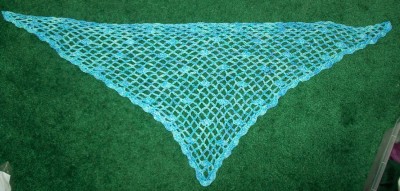 I have another shawlette finished! I used a similar pattern to
the gray shawlette
I made awhile ago. They are in the same book:
Totally Simple Crochet: Over 30 Easy Projects for the Home and to Wear
. This pattern is called Chain Stitch Netting Shawl with Fan. It is like the first one I made but has intermittent fan sections throughout and a fan trim. I changed the trim a little, making the shells smaller than called for, but otherwise, I pretty much followed the pattern.
The first picture does not really have a good take on the color of the yarn, which I got from Craft Me Happy. It's called Calico Sock Yarn, is fingering weight, 100 grams, and the colorway is called Waimea Bay. Here is a photo I took of it in my photo tent. It shows the color better though not the shawl since I have it folded up.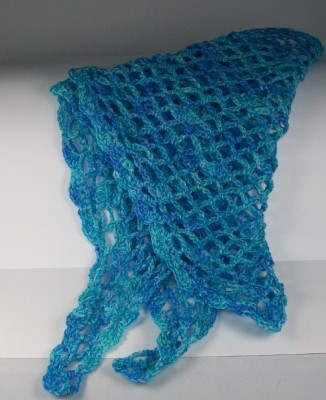 I wasn't sure if I would get much use out of a shawlette, but after having a brief cold spell here last week, I give them the thumbs up. I wore it to school with a light jacket and sweater underneath. When I got inside, I took the jacket off but kept the shawlette on with the sweater, and it kept me warm but not too warm. Sometimes the buildings can get cold because it is rare for the heat to get run as it usually warms up by about noon. The shawlette kept the chill off my neck, and I think it was a little more fashionable than a scarf.
I have not weighed it, but I have a fair amount of the yarn left, so I'm trying to figure out what to do with it. I could easily get some fingerless gloves out it, or there might be enough to make another shawl and gift it.