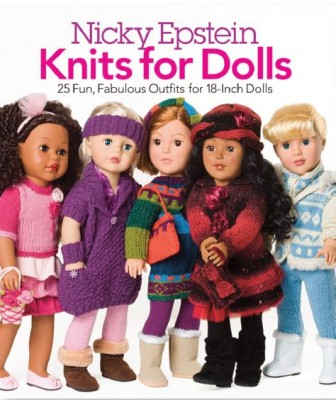 Knitting designer Nicky Epstein has a new book out this month called
Knits for Dolls, 25 Fun, Fabulous Outfits for 18-Inch Dolls
. Here's a little info about it from the press release:
"In Nicky Epstein Knits for Dolls, the celebrated knitwear designer and author presents a collection of 25 beautiful, charming, and creative outfits that are sure to inspire knitters and spark the imaginations of little girls. The stylish designs—from a glittering lacy gown for a royal ball to a skull-and-crossbones tunic for
rocking out at a concert—will bring playtime scenarios to life. Many of the ensembles include fun accessories like hats, headbands, purses, scarves mitts, and socks. The designs feature a wide range of techniques, from cables to Fair Isle to beadwork, that are sure to delight knitters at every level of skill and experience."
Thanks to the publisher, Sixth&Spring Books, I get to give a free copy away to one of my readers. Here is what you do to get a chance to win. First, go over to Amazon.com here and look through the book. Then come back to this post and tell me which is your favorite pattern from the book. The deadline for entering is June 3, 2013 midnight eastern time. I will then use the random number generator to pick a winner. Make sure you include your email address when you leave a comment so that I can contact you in case you win. The winner will have 3 days to reply back to me; otherwise, I will pick a different winner.
Disclaimer info: The book will be sent out by the publisher, not me. Therefore, I am no responsible for how long the shipping may take or if a prize is lost in the mail or any other similar issue. Participants who do not leave their email address or who post after the deadline even if I have not closed the blog entry are not eligible to win.
ETA: Congrats to #8 Danijela! She won the book!