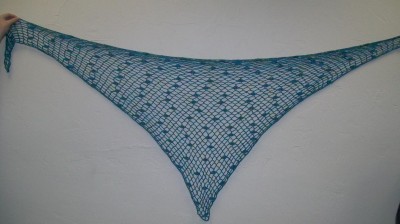 Making the leap from Red Heart Super Saver yarn to fancy-yarn from a "real" yarn shop is not an easy step for most yarn crafters. You feel like you have to justify the expense. I recently showed off this shawl to a small group of novice yarn crafters. I made it with a skein of  Heritage "Silk Paints" 85% Merion/15% silk that I picked up at a not-so-local yarn store, and I have been working on it off and on for many months. It is a very simple net and fan pattern, light-weight, and perfect for Florida weather. The pattern comes from 
Totally Simple Crochet: Over 30 Easy Projects for the Home and to Wear
, which I adapted a little. The yarn cost about $10 for the skein, and I used just about every single inch of it for this shawl.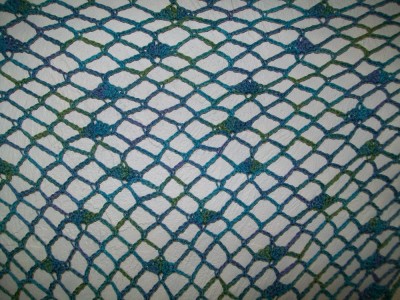 When queried about the yarn, I received a few "wow!" comments, as if I had really broken the bank on my fancy yarn purchase. Of course, newbies are afraid to work with good materials at first, and it is difficult for them to see the benefits of quality over quantity. But, here's my deal with all of that: Not only did I end up with a very nice finished piece that I will wear and enjoy, but I had many hours of pleasure making it, which I think is very much worth $10. If I had gone to a movie, I would have spent at least that if not more, and my enjoyment would have lasted maybe 2 hours at the most.
I would never suggest anyone buy yarn she could not afford, but at the same time, I think it is worth thinking about the activities that you do spend your money on and compare. If you spend 10 hours on a project with yarn that cost you $10, then it is really just costing $1 an hour. To me, it completely justifies the expense.