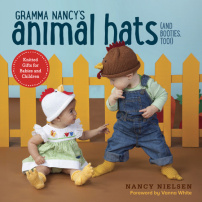 Gramma Nancy's Animal Hats (and Booties, Too!): Knitted Gifts for Babies and Children
is published by Potter Crafts and written by Nancy Nielsen. It retails for $18.99 in the US and $21.99 in Canada. Though you will find a few booties and some little mitten sprinkled throughout this book, its main focus is animal hats for babies and children. And, yes, this has a major "cute" factor going for it!
The designs are based on a rolled-brim hat and an ear flap hat, which are the first two projects in the book. From there, all the various type of animals hats included additions two either of these two patterns. So for example, if you are making the bunny hat, you will add ears and a snout. In the techniques area before the projects, it covers the different additions you would make to add the animal face to the different hats. There are a total of 19 different animals created with the hat designs, such as birds, frog, turtle, monkey, and so on.
Though there are technique instructions, you need to either have some experience or are ready to learn how to knit in the round with both circular needles as well as double pointed needles. Lion Brand Vanna's Choice yarn is used for all the projects, so that means you will be using worsted weight yarn. The variety of animals are both girl and boy friendly, and they range in size from new born to child size (prob around 6 years old).
I can't wait to attempt one of these adorable hats!
I received this book from Blogging for Books for this review.