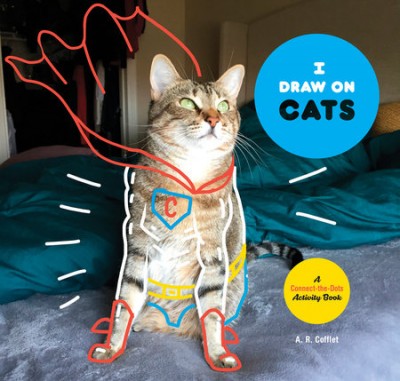 I Draw on Cats: A Connect-the-Dots Activity Book
is published by Potter Style, and the author/photographer is A.R. Coffelt. The book retails for $9.99 in the US and $12.99 in Canada is called an activity book because it is meant for the reader (user) to write inside of the book.
The concept sounds a little crazy, and it is, but I think it is pretty fun too. It's 48 pages long and is full of color photographs of cats. The photos have drawings superimposed on top of them, and then there are connect the dots that are numbered so that you can also draw on top of the photo and finish off the final image.
I have to admit that my old eyes have a little trouble reading the numbers on some of the photographs, but I see this more as a book for a child to play with. I think it would be especially appealing for anyone who is homeschooling and working on the idea of numbers and patterns. This would help with learning numbers and also have a layer of hand-eye coordination and tactile learning involved as well.
I received this book from Blogging for Books for this review