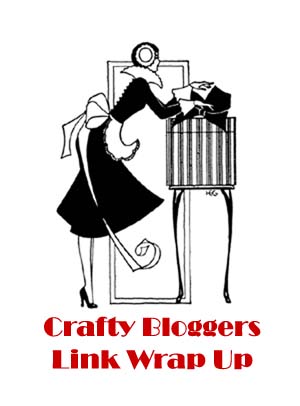 Today is my day to catch up on my half-finished holiday activities, which includes a half-decorated Christmas tree, the other half of my Christmas cards assembled and mailed, the rest of my holiday house decorations pulled out and set up, and the rest of the Christmas presents wrapped and ready to give. Somehow I only managed to get half of all the above accomplished at this point, and now I feel the stress of it weighing me down. I mean – it's just sad to look at a half-decorated Christmas tree! But, school is over until the new year and I have zero appointments today, so it's just me, the animals, and Christmas today. Just call me Mrs. Clause.
If you are also feeling the holiday pinch to get everything done, then grab a few minutes for some quick and creative ideas from my fellow craft bloggers.
Craftside- A behind-the-scenes peek at a crafty world
The 15 days of Holiday Goodness Giveaways continues at Craftside. Just answer questions and you are entered to win free books! And while you're there check out a tiny embroidered necklace, a decoupage reindeer necklace, a fun centerpiece, a floral barrette tutorial, a winter memory photo ornament project and a couple of invitation ideas!
Stefanie Girard's Sweater Surgery
The fastest festive reindeer necklace ever! Perfect for holiday party crafting.
The Impatient Crafter
Madge shares another simply stunning ornament idea you can whip up in a flash!
Crafty Princess Diaries
Holiday Guerrilla Marketing Tip for Crafty Princesses – Don't forget that so important and handy business card this holiday season.
Cross Stitch at About.com
Use the free back stitch motifs for quick ornaments or stitch several together for a larger project.
Layers Upon Layers
There are lots of projects that can be done in time for the holidays, even at this late date!
About Family Crafts
Using these free printables, you can make your own cards, party invitations, favors bags, place cards, napkin rings, gift tags, and much more to help celebrate Christmas!
Aileen's Musings
Aileen shows you a few more quicky Christmas cards she made from old cards and things. Stop by and get some ideas for yourself!
The Crochet Dude
Have a blue Christmas by adorning your packages with inexpensive Christmas ornaments. Drew shows how to do a quick and colorful easy addition to your packages with the help of his faithful feline.