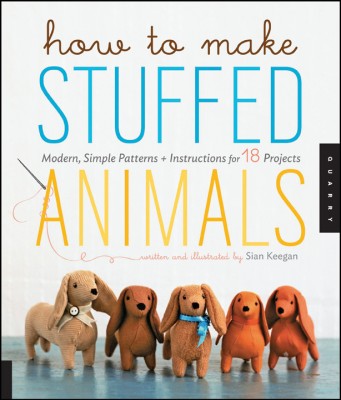 In early September, I talked a little about a new book called How to Make Stuffed Animals: Modern, Simple Patterns and Instructions for 18 Projects
, but I had not gotten a chance yet to take a complete look at the book other than the free download, which I offered then and again have for you linked here.
Now that I have the book in my hands, I can give you a little bit more info about it. As the title says, it includes 18 projects, all of which are small, adorable animals. The first part of the book before the projects section has the basics concerning what you will need to get started as far as supplies and also important information about the techniques. If you already sew, other than maybe needing to purchase some stuffing (the author prefers carded wool, but I think poly-fill would also work), you more than likely have most of what you will need. Plus since all the animals are pretty small, you don't need tons of fabric and can probably use up scraps. In fact, one design element I really like is how she uses a mix of fabrics, even prints, for many of her project.
The techniques covered in the beginning section discuss some of the basics of sewing you need to know such as how to cut out a pattern correctly and how to do simple stitches like back stitch. At first I worried that maybe she expected you to hand stitch all of these animals, but the author explains how to use edge stitching on a machine. The hand stitching is really just for extra details and attaching parts together from what I can tell.
The projects are all freaking adorable! Each project has step by step instructions and include some pretty detailed illustrations to go with the text. (Again, download the file linked above so you can see for yourself). Though the book is about making stuffed animals, some of the projects take this a step further and show different ways for using them such as attaching them to a mobile or turning them into a tree ornament. At the end of the book, all of the patterns are included and require that you photocopy them at 200% and then cut them out.
This book retails for $24.99 US; $16.99 UK; and $27.99 CAN. At the US price, that equates to $1.39 per pattern, which is pretty economical. As with any small toy type craft items, these look like that can be "fiddly" to make. Personally, I don't mind that myself, but I know some crafters who can get exasperated with making and attaching small pieces together (like arms and legs), so if you are anti-fiddly, then this is not a book for you. None of these patterns look overly difficult for anyone with sewing experience. If you already sew and are looking for some ultra cute gift ideas, this book would something to consider. Someone totally new to sewing might struggle a little, but that is the nature of learning a new craft. At least with small projects like this, newbies would not need to invest a ton of money or time.