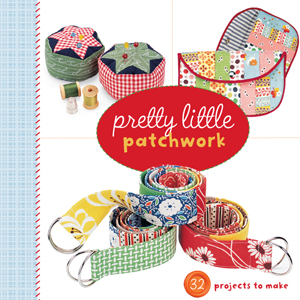 Pretty Little Patchwork (Pretty Little Series)
is published by Lark and retails for $9.95 in the US and $10.95 in Canada. The last time I check Amazon.com, it was a few dollars less than the publisher's retails price. The 32 projects were created by 18 different designers.
Interestingly enough, I took a look at some of the reviews for this title on Amazon, and people seem to either love it or hate it. There were some complaints that there are not enough unique projects in it. While that may be the case, I still liked this book. It has a good range of projects that will appeal to both beginning and more advanced sewers. For example, some easy projects are the cute coasters, simple square sachets, and a few types of totes. More advanced projects include the Yoga to Go project, which is a yoga mat bag, and the laptop cover, which is another project that is a little more involved than something like making a simple coaster because the instructions explain that your dimensions (of course) will vary depending on the size of your computer.
While many of the projects are not overly difficult, this book still comes off to me as a book for someone with at least some sewing experience. The whole premise of the book is to create patchwork material from fabric scraps and then use this to create a functional or decorative item. Who but a seasoned sewer is going to have lots of fabric scraps to pick from? Plus, patchwork (as the book explains clearly) requires both knowledge of how to use a sewing machine and how to do some basic hand-stitches. My own experience with creating anything similar to the patchwork technique is that you have to be pretty exact when it comes to cutting and stitching the pieces together or you will have gaps and odd seams that don't look right.
There is a basics section that covers areas like the "how to" of hand-stitchery and patchwork assembly. It also explains the type of hand tools needed and various types of fabric you may want to use. Templates in the back of the book are used for the projects that are sandwiched in between these two parts of the book.
I liked a lot of the projects in this book, and a few favorites are the Starlet Pin Cushion, Outside the Box, and the Sew Pretty Ornaments. The project instructions explain how to create the patterns needed (again, some use templates provided in the back of the book) and then there are step-by-step instructions for assembly and sewing. The photos clearly show the finished projects, and in come cases there are illustrations to help with the instructions.
So for those who don't like the book, maybe they were expecting something very different. The projects are very much on the side of function: totes, potholders, coasters, a scarf, hat, headband, coffee cozy, crochet hook holder, etc. But you can add your own style by selecting your own scraps to incorporate into each one, and there are tons of small gift-giving possibilities here.