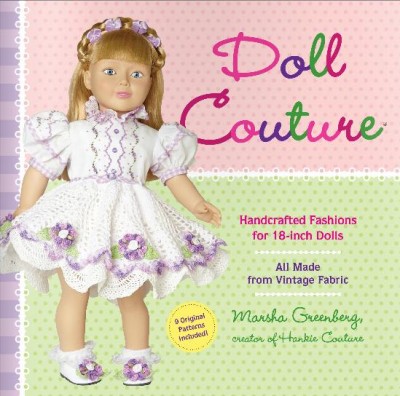 Serious sewers will often have a stash of fabric scraps that are not large enough to make wearable items for themselves, but they hate to just toss them out. If you are not into quilting, then what do you do them? How about doll clothes! I received a press release about a new book on making doll clothes that seems like a good fit for fabric scrapers out there. Here are some details from the publisher:
"Running Press is proud to introduce Doll Couture: Handcrafted Fashions for 18-inch Dolls
, a book that takes the unique fashions and DIY sensibilities of Hankie Couture to a new height. It showcases a striking array of original garments for the vastly popular 18-inch dolls (American Girl size). Everything from dresses to pants and shoes were meticulously crafted from vintage handkerchiefs, table cloths, tea towels, laces, embroidered linens, pillowcases, table runners, and more. The book showcases Marsha's exquisite fashions and includes sewing instructions and 9 original patterns so you can recreate her designs. It will inspire you to unleash your imagination in transforming your own treasured heirlooms or colorful flea-market finds into one-of-a-kind ensembles."
It retails for $22.00 US/$25.50 CAN. There is also a Kindle edition available.