I have two family members expecting babies soon, so out came my crochet hook. Of course, I made the usual afghans, but I have wanted to make some little dresses too. One of those expecting is not going to know the gender until he or she is born, but she has a 1 year old little girl. The other expecting mommy knows she is having a girl. I searched around on Ravelry and found a very easy pattern called Angel Wing Newborn Pinafore. It is a free pattern designed by Maxine Gonser. I talk about and shows these as works in progressing during a podcast I filmed with my sister, Tappingflamingo, so you can find out more about the pattern and my approach if you watch that video.
But, below are the three dresses I ended up making. The pink one is the smallest and sticks pretty much with the pattern, except after making it I stitched up the back (which you don't see in this photo which shows the front only). I used a size H hook and pink wool yarn from Morehouse Farms.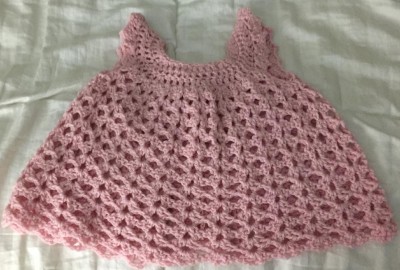 I had some Ice Cream yarn from Lion Brand in my stash, so I used an I hook and make two more that are a little larger. The first is made using the Cotton Candy colorway, and I'm showing the back in this photo because I ended up just connecting the rows after the fourth row and using single crochet to make a tie. The next has a few extra rows at the bottom and I also connected after the fourth row. I used the Spumoni colorway.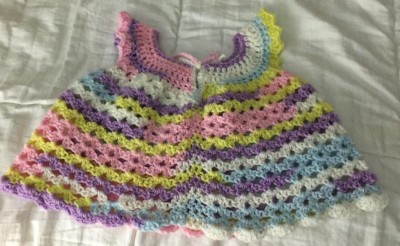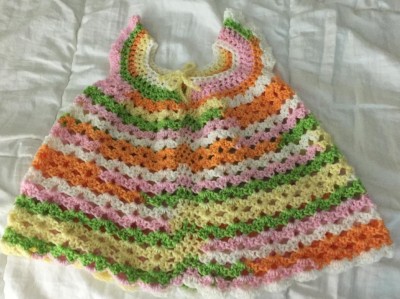 If you know single, double, and chain stitch, you can make these super easy crochet baby dresses. Obviously, they are made so that the baby has a onsie or little t-shirt and maybe leggings under them, but I could see how these could work as a dress and later as a little top. Hopefully, both baby girls will get a lot of use out of these.