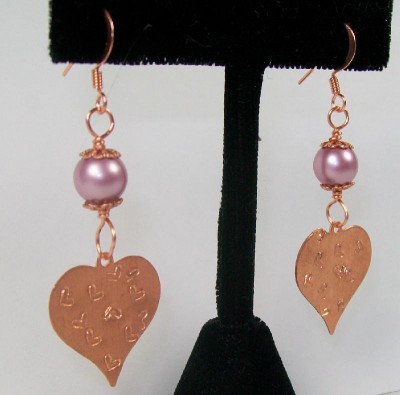 I sometimes get asked by readers who find this blog why I don't write more here about jewelry making, my first serious crafting crush, versus all this fiber stuff you see all the time here. I would guess, even, that if someone came here and didn't know me previously, he/she might not enough know I make jewelry and even have 8 jewelry books published (and not by vanity presses BTW). So, to those inquisitive minds or those who just don't know, yes, I actually do still make jewelry. Lately, I have been making Valentine's Day jewelry.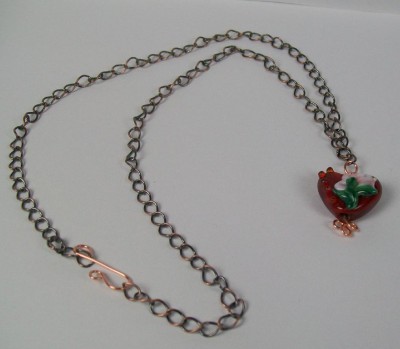 Not only do I make jewelry regularly, but I write and publish jewelry tutorials, jewelry book reviews, jewelry designer interviews, and other jewelry related articles every week on the
About.com Jewelry Making site
. It's my part-time job, and I publish a minimum of 8 articles a month on that site. If you sign up for my
free newsletter over there
, you will get a weekly notice of any new articles published.
As a result of being paid to write about jewelry over there and being contractually obligated to write a certain number of articles and other required activities to maintain the site, I sort of horde my jewelry text for that site instead of writing it here, which I don't get paid for doing. Here I play. And, jewelry for me is not really play time like it is with fiber or other crafts. I mean. Maybe it is like playing, but it's playing with more of a purpose. If I make a bracelet, for example, I have to take photos of each step of the process. If the design doesn't work out the first time, then I have to rework it, and again, take photos and make notes as I go. I have to document my steps because I need them later for tutorials. I still enjoy the work, which is why I am still doing it after 15 years; however, it's part of my living versus a hobby.
I wish I could devote more time to all of it, but I also work a demanding full-time job as well. So that's the reason why you see different crafts here and not so much jewelry.