I gave a little look at this infinity scarf (housed in my Zipper Pouch Thirty-One bag) earlier this week. It was an alternative to a shawlette pattern that I just could not get the hang of. I have wanted to make a cowl or infinity scarf for awhile, so I decided to just wing it.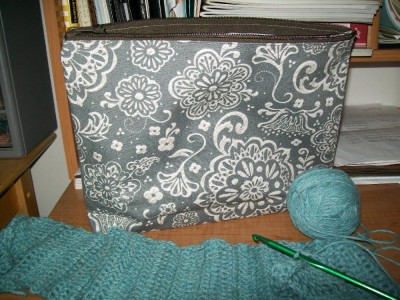 I know that a lot of these types of scarves are usually done with one long strand of chain stitch that is connected, but you have to really be careful about not twisting it when you go that route. I wanted something fast and easy, so instead of working it with a long connected chain, I worked from the shorter end and connected both ends when I finished. Here it is shown doubled around my neck.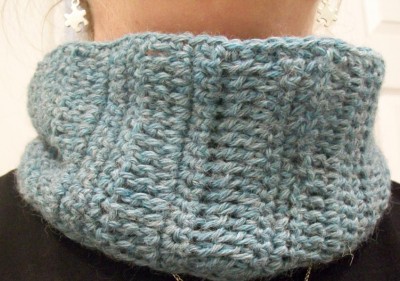 It ended up being 4 inches wide and 36 inches long, and alpaca yarn tends to stretch, so there is plenty of room. I used a size J hook, and the yarn is Cascade Baby Alpaca in the 3030 colorway. Here is how I made it:
Start with18 chain stitches,
Stitch one row of single crochet, making sure to chain one at the end of the row.
Stitch one row of single crochet, making sure to chain four at the end of the row. (This will work as your first triple crochet on the row that follows.)
Stitch one row of triple crochet.
Continue to alternate between two rows of single crochet and one row of triple crochet for a total of 27 repeats, making sure to end the last row with triple crochet.
At this point, you have a regular scarf. Connect both ends of the scarf using slip stitch.
Finish off both sides of the scarf with single crochet.
Lightly block. (I put it on a towel and spritzed it with water and shaped it.)
Here it is flat. You can either wear it around your neck as one large loop or you can wrap it twice. If you wanted it longer, you would just need to repeat the single crochet and triple crochet pattern until you got the length that you wanted.


I have not weighed the leftover yarn, but I'd estimate that I used about half the skein on this. I probably have enough to make another one, or I might try making one but knitting it this time. I'm very happy with how it turned out. Alpaca yarn is super warm, but since I used a lot of triple crochet stitch in this, it should be light enough to use in Florida on the few occasions it's cold or when my hubby insists on cranking up the air conditioner.